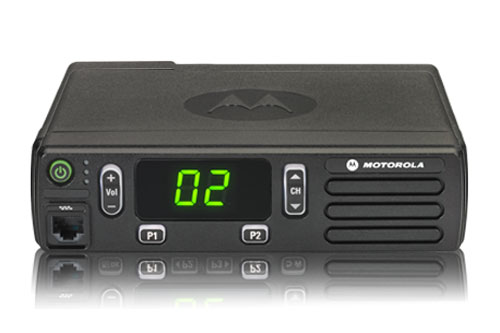 The rugged MOTOTRBO CM200d and CM300d radios offer all the benefits of the latest technology – twice the capacity, greater coverage and superior audio. These affordable mobiles are compatible with the MOTOTRBO features you'll find are business-essential, for example a transmission can be interrupted to prioritize critical communications.
It's easy to transition your business to digital technology. These radios deliver the same easy-to-use features of the CM200 and CM300 mobiles you use today. It can operate in digital and analog modes concurrently so it fi ts seamlessly into your existing communication system, allowing you to migrate to digital at your own pace.
You can also choose the analog-only models of the CM200d and CM300d, and unlock the capabilities of digital when the time is right. Your investment is safe: all you will need is a simple software upgrade.
With its bright, high contrast alphanumeric screen, the CM300d allows drivers to see important information such as caller ID at a glance. The CM200d offers fewer channels and a simpler numeric display.
The CM200d and CM300d are so easy to use and deliver such clear voice communications, you'll be amazed how efficient your operation can be.
Motorola CM200d Features
Numeric Display: Clear, simple display of channel number.
Analog/Digital: Get all the benefits of digital, including better voice quality, better range and better battery life, but retain compatibility with your existing radio fleet. With analog and digital capability, you have the freedom to migrate to the latest technology at your own pace.
Analog only: Purchase analog capability now and transition to digital capability when you're ready. All you will need is a simple software upgrade.
Transmit Interrupt Capability (decode only): Enables a supervisor to interrupt a CM Series user to deliver critical communication exactly when and where it's needed.
Compatible with Radio Management Suite: Program your radios quickly and efficiently, with the Radio Management tool. Radios can be programmed in batches to a standardized template, giving error-free results and optimized performance.
Dual Capacity Direct Mode: Utilize the power of the 2-slot TDMA DMR standard to double the capacity of your 12.5 kHz channel, without the need for a repeater.
IP54 Rated: Dustproof and splashproof, so you can work with confidence in challenging environments.
All Motorola CM200d Models Include:
Compact Microphone
Low Profile Bracket
Power Cable
Two-Year Warranty
One Year Service from the Start-LITE
Options
1: Features only available in Digital mode
Resources
MOTOTRBO CM200d and CM300d Specsheet
Motorola CM Series Accessories
MOTOTRBO Two-Way Radio Solutions At A Glance