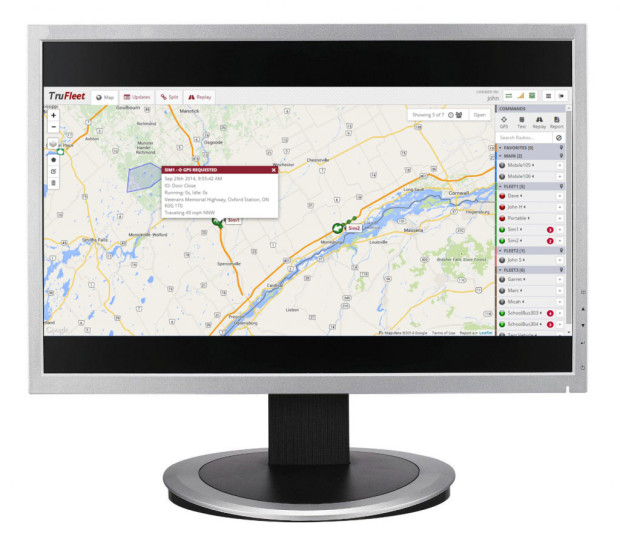 GPS location tracking allows efficient tracking of workers, vehicles, and business assets to enhance safety and productivity. GPS-equipped portable and mobile radios can be configured to transmit their geographical coordinates at pre-programmed intervals, on demand, and in case of an emergency. MOTOTRBO Location Services software applications provide dispatchers with a real-time display of fleet activity on a customized, high-resolution, color-coded map. With MOTOTRBO Location Services, customers can enjoy the benefits of location tracking with no monthly fees or cumbersome external GPS devices to purchase, install, and maintain.
TruFleet AVL – With an easy-to-use, intuitive, graphic user interface, Tallysman Trufleet™ provides a rich set of tools to monitor vehicles in multiple fleets in real-time, plus flexible reporting tools to assess driver behavior/performance and to analyze and optimize multiple fleet operations. Tallysman TruFleet™ includes a selective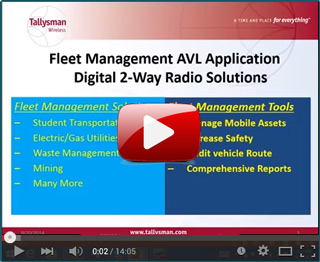 display of individual vehicles on scalable maps to support nearly instantaneous location and tracking for fleet dispatch purposes.
The TruFleet AVL solution provides Fleet operators with tools to monitor the location of their fleet in real-time as well as monitor vehicle usage and driver performance. Flexible reporting tools provide the means to evaluate and maximize the operational performance of the fleet operation. The system supports MOTOTRBO IP Site Connect, Capacity Plus, Linked Capacity Plus and ConnectPlus system configurations.
The TruFleet web browser interface allows groups of vehicles to be organized into work groups for presentation on a map so that activities of selected vehicles can be displayed. TruFleet solutions take advantage of the latest Digital 2-Way radio system infrastructures to provide air-time solutions with no re-occurring fees unlike competing cellular radio based solutions. TruFleet multiple fleet operation enables radio system operators to offer carrier voice and data services.
TruFleet's Responsive Web Design (RWD) provides an optimal viewing experience with a minimum of resizing, panning, and scrolling across a wide range of devices from mobile phones, tablets and desktop computers.
Features
Web browser interface – Responsive web design
Multiple Fleet Operation
Mapping – Google map tiles (no charge maps)
Text Messaging
Emergency Alarms
Route Replay
Reverse Geocoding
Reports
Geo-fencing
Automatic Log Retrieval
Email
Archiving
Redundancy
Hosted Data Server
– Tallysman Wireless TruFleet™ "Cloud Based Services" program enables Channel Partners to offer Carrier Services on any radio configuration from Conventional repeater systems through to Wide Area trunking systems.
Education – Tallysman's TruFleet™ provides an extensive suite of applications especially developed for the school bus industry, with Automatic Vehicle Location (AVL), external TW200 hardware interfaces for arm, flashing light, and end-of-shift buttons, integration with Edulog scheduling software and tools for driver job ticketing.
Ready Mix – Tallysman has partnered with industry leading Ready-Mix dispatching and accounting software vendors to provide an end-to end solution, with Automatic Vehicle Location (AVL), plus extensive reports for analysis and optimization. The Ready-Mix applications can provide "button" box functionality through push-button responses to "Forms" displayed on the mike-keyboard display, to improve truck utilization, timely and accurate report of operational status and optimized vehicle utility.
TW200 SCADA – The TW200 SCADA unit provides secure and reliable end-to end SCADA and Telemetry communication over Motorola MOTOTRBO™ radio systems. Our expertise in wireless communications can help you eliminate costly wired installations by wirelessly connecting Remote Terminal Units (RTU) in the field directly to your Supervisory Control System (SCS).