Looking for command and control to mobilize your teams and reduce response time? MOTOTRBO provides the ability to extend the functionality and access to radio functions via an IP connection, allowing the users to maintain connectivity from remote locations.
SmartPPT Basic
SmartPTT is a dispatch software application, which facilitates development of distributed radio communication systems with a large number of base stations and dispatcher consoles working simultaneously. It includes all benefits of MOTOTRBO™digital platform (Motorola).
SmartPTT supports all digital features of MOTOTRBO™ two-way radios along with analog mode operation to facilitate gradual upgrade to the new radio communication standard by means of a "mixed" mode when some sites operate in an analog mode and others operate in digital.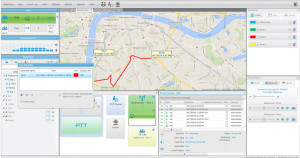 SmartPTT architecture can manage subscriber networks of any size and topology. Such complex dispatching systems can be implemented at various kinds of industrial, municipal and commercial facilities:
Linear-extended objects – Multi-site dispatcher control systems for oil- and gas-pipelines, power grids, highways, railways, etc.
Geographically distributed objects – Dispatching systems for emergency services, municipalities, public transportation, security services, etc.
Local objects – Single-site systems for manufacturing enterprises, airports, supermarkets, hotels, etc.
SmartPTT Enterprise introduces the most efficient way for dispatch control over MOTOTRBO systems based on direct IP connection to the repeaters. SmartPTT direct IP connection is applicable for all dispatching functionality including voice calls.
Advantages of systems based on direct IP connection to radio infrastructure
Extended Functionality
Enhanced Logging. Only direct IP connection-based system has the ability to log all voice calls and text messages including private ones and collect the information about the repeater used for transmissions.
Support of Digital Telephone Patch. With the direct IP connection to IP Site Connect systems or standalone repeaters, SmartPTT supports Motorola Digital Telephone Patch, providing SIP interface to telephony and ability to do simultaneous phone calls to MOTOTRBO subscribers on both time slots.
Monitoring. SmartPTT Monitoring service provides in-depth analysis and control over connected MOTOTRBO repeaters via direct IP connection.
Reliability
SmartPTT dispatch system based on direct IP connection doesn't need any control stations and sound cards installed at the Radioserver. The Radioserver itself can be located at any distance from radio coverage and only requires stable IP connection to MOTOTRBO repeaters.
Scalability
With the direct IP connection, single SmartPTT Radioserver can handle multiple distributed MOTOTRBO systems over large distances, providing seamless integration of different sites into a single radio network. Multilevel bridging feature allows establishing routes between SmartPTT Radioservers, providing ability of bridging between independent dispatching systems located in different regions.
Cost-effectiveness
Systems based on SmartPTT direct IP connection allow considerable reduction of costs, eliminating the need for control stations, extra server computers, and extra sound devices.
SmartPPT Enterprise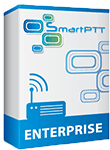 SmartPTT Enterprise software implements complex dispatching control over MOTOTRBO digital radio networks. It includes all functionality of SmartPTT Basic, but considerably differs in architecture approach.
The key feature of SmartPTT Enterprise is possibility of direct control over MOTOTRBO networks (SmartPTT Enterprise connects directly to MOTOTRBO repeaters through IP protocol).
SmartPTT Enterprise Functionality
Radio Dispatch
GPS Tracking
Telephone Interconnect
Data Transmission, Data and Voice Logging
Real Time Monitoring
Radio Network Bridging for IP Site Connect, Capacity Plus
Key Features
Enhanced Functionality
Direct IP control over MOTOTRBO repeaters allows enhanced control over radio subscriber:
Logging all data and voice activity in MOTOTRBO network including private calls and text messages.
Logging information about the repeater used by subscriber for calls. Having this information it is possible to know approximate location of subscriber with the radio without GPS-receiver.
Reliability
SmartPTT Enterprise architecture requires considerably less amount of functional blocks to build the dispatching system in comparison to other applications. SmartPTT Enterprise doesn't need control stations (MOTOTRBO mobile radios) to communicate to subscribers. Also, it is not necessary to put Radioservers in radio coverage area.
Scalability
Because of the optimized architecture and enhanced means of dispatching control, SmartPTT Enterprise allows effective building dispatching systems of any size and topology.
Cost Efficiency
SmartPTT Enterprise saves considerable money for dispatching system in comparison with solutions based on control stations, because SmartPTT Enterprise requires considerably less units of server infrastructure and control stations are not needed at all.
SmartPPT Radio Dispatch Features
Two-way individual, group and all calls from SmartPTT Dispatch Console
Conference calls to individuals or groups
Recording of all voice calls even individual between subscribers
Job Ticketing
Lone Worker
Hot keys for quick private and group calls
Calling Subscriber Identification
Remote monitoring
Emergency calls
Voice calls and text message exchange between dispatchers (Intercom)
Radio check
Call alert
Radio Kill/Channel Denial
Voice announcements
Flexible sound control
Customizable Subscriber Call windows
Subscriber categorization
Configurable profiles to manage access of dispatchers to control stations, groups, services, MOTOTRBO IP Site Connect slots
Channel Selector for switching channels at the control stations
Muting of talk groups
Deferred voice calls and messages
TRBOnet™ Enterprise 4.7 with Mobile Client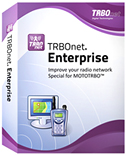 TRBOnet Enterprise is a professional grade application especially developed for Dispatch centers that monitor large amounts of traffic. It supports digital as well as analog channels that could be helpful for clients during there migration period. Also makes response during emergency situations quick and effective, and can be used to link multiple agencies or departments at the touch of a button by the dispatcher. TRBOnet Enterprise is the best for MOTOTRBO Capacity Plus, Linked Capacity Plus, IP SITE CONNECT and CONNECT PLUS.
Benefits
Voice Recording
Data Logging
Binary Patch is available for IPSC
Talk Group Patch is available for CapacityPlus and LCP
Easy to install and configure
IPSC. TRBOnet can be connected to several single repeaters or IPSC systems simultaneously. A dispatcher operates with all repeaters/sites as with one radio system. CrossPatch feature allows to tie together repeaters and interconnecting radio units from different sites. Roaming allows units moving from one site to another and keep being in contact with a dispatcher.
LCP & CapacityPlus. No limitation for the number of talk groups!
Note: TRBOnet still supports Control Radios based systems
Features
Multi control station supported
Capacity Plus and IP Site Connected supported
Voice IP
Voice Recording
Telephone Interconnect
Passive Transmit
CrossPatch
Stun Kill
GeoFencing
Speed Control
Google Street View
Street Names Resolving
Export Data to external table
Scheduler for Text Messages
Encrypted Data between RadioServer and Dispatchers
User Activity Monitor
Digital and analog radios supported
Access to a radio channel through a personal computer (Remote Dispatcher)
All call types supported (Broadcast, Groups, Personal, Remote Monitoring)
TX Interrupt
GPS positioning of radio users
Email Gateway (SMPT and POP3) for Text Messages
Google Earth Integration
Lone Worker
Revert GPS
Extended GPS info: speed, direction, accuracy
Flexible workflow system based on the built-in telemetry MOTOTRBO
Simple interface for receiving and sending of text messages
Track system of radio's state (online/offline) based on ARS
Event log: ARS (Presence Notifier), radio, SMS, telemetry, GPS events
Reporting
Configurable Sound Schema (for Alarm and other events)
Dispatcher's status (online, offline)
SMS Alert Notification – integration with cell phones
Radio Allocation Control
RadioPro – Dispatch from Anywhere
Professional Dispatch Console for MOTOTRBO 2-Way Radios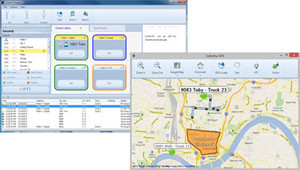 RadioPro provides remote access to Motorola MOTOTRBO and Kenwood NEXEDGE radios via IP Networks. PC-based client software presents a user with either a console for dispatching simultaneous radio channels (RadioPro Dispatch), a low-cost user interface for PC users (RadioPro Talk), or a mobile app (RadioPro Mobile) that runs on iPhone/iPad and Android devices. As shown in the diagram, a system may have a mixture of Dispatch, Talk , and Mobile Clients. The IP Gateways interface the radio system to an IP network, ensuring easy wide-area deployment without purchasing and configuring server PCs.
RadioPro combines flexibility to solve any Radio-Over-IP challenges, ease of system expansion, and cost savings over other solutions.
System Components
A RadioPro system includes the following components:
Client software installed on PCs or Smart Mobile Devices. The following applications can be used together in the same RadioPro system:
RadioPro Dispatch client for PC workstations.
RadioPro Talk client for PCs and notebooks.
RadioPro Talk for Mobile Devices for iOS and Android devices.
A control station radio and RadioPro IP Gateway for each simultaneous talk group.
For more information on any of your dispatch and console needs, please send a contact request or give us a call at 408-592-7519.