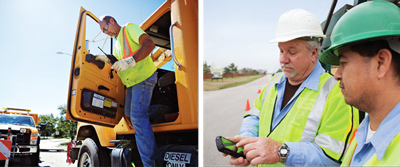 Bay Area TrboTalk is proud to offer WAVE® communications capability which delivers instant and secure push-to-talk (PTT) communications over our wireless network using your smartphone or tablet. It allows you to keep information flowing quickly and securely between your MOTOTRBO and smartphone-equipped mobile workers.
Our WAVE system extends the reach of MOTOTRBO communications to iOS and Android devices over public 3G, 4G LTE and WiFi networks. The WAVE Mobile Communicator application turns your smart device into a multi-channel PTT handset with enhanced functionality that includes Status, Presence, Mapping and Group Text.
As well as extending MOTOTRBO communications to smart devices,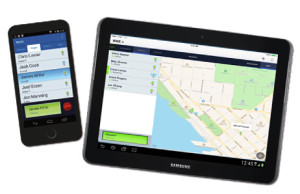 WAVE 3000 can also be deployed as a broadband-only PTT solution.
WAVE works over any wireless IP network including:
3G, 4G/LTE or WiFi
Supports all Android and iOS devices
Capable of standalone operation
Extended feature set
Scalable up to 500 users
Every Device. Every Network. Every Team. Connected Like Never Before.
WAVE Work Group Communications delivers real-time voice and data securely over any network using any device. From two-way radios to smartphones, laptops to landlines, tablets to rugged handhelds, users can use the devices they already have and the networks they already subscribe to and PTT with other teams and individuals both inside and outside of their communication system.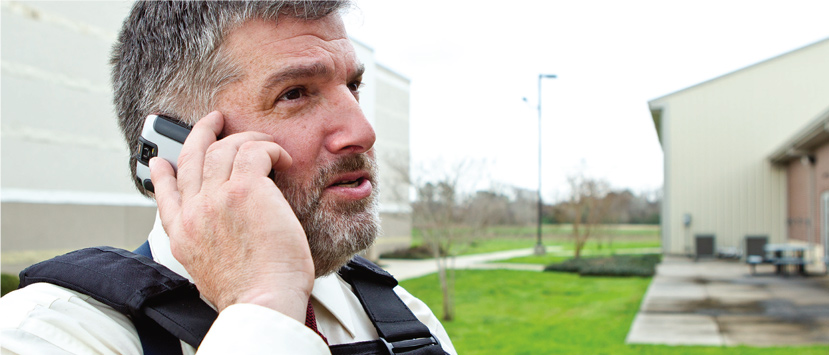 Wherever your personnel are, whatever they do, WAVE Work Group Communications lets them connect with simple, secure and affordable PTT.
Extend reach. Enhance choice. Collaborate like never before.
WAVE 5000 enables highly scalable, feature rich, enterprise grade push-to-talk (PTT) on broadband networks and devices so that critical, time sensitive information flows quickly and securely between mobile workers, teams and citizens. From two-way radios to smartphones, laptops to landlines, tablets to rugged handhelds, WAVE 5000 lets your users use the devices they already have and the networks they already subscribe to connect and talk to others both inside and outside of your communications environment.
Developed as a highly scalable, feature rich, enterprise grade PTT solution, WAVE 5000 can support up to 3,000 users and enables full interoperability between disparate radio systems and telephony, and extends the reach of these systems using any combination of broadband networks and devices with a suite of PTT applications.
Wherever your personnel are, whatever they do, WAVE 5000 lets them connect and communicate with simple, secure, affordable PTT.
Bridging Two-way Radio with Broadband Networks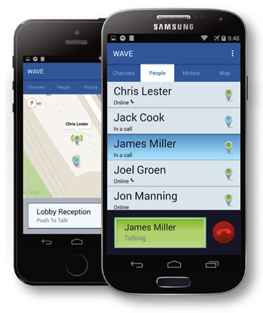 With WAVE 5000 you can experience game-changing functionality that lets you build and operate secure, highly-scalable solutions for today's most demanding communications environments:
Extend Radio To Broadband
Extend workforce communications beyond radio to include modern devices and broadband networks for seamless communications in any location.
Deploy Broadband PTT
Secure, 'over-the-top' PTT connecting smart devices over 3/4G LTE and WiFi networks delivers greater choice and flexibility when choosing a non-radio, carrier-independent communications solution.
Connect Radio to Radio
Connect multiple, disparate two-way radio systems and remove barriers to communication interoperability and workforce collaboration.
WAVE Work Group Communications
WAVE  5000 Client Applications
MOBILE COMMUNICATOR
Turn Your Apple or Android Device into a Multi-Channel PTT Handset
Not everyone needs or wants to carry a radio handset. But they do want instant, secure access to important, often mission-critical communications
wherever they are located. With a WAVE Mobile Communicator installed on a smartphone, tablet or custom handheld, any user can access PTT communications from any location, talking with groups of other users or individuals as required. Mapping, presence and channel activity monitoring improve situational awareness for everyone.
DESKTOP COMMUNICATOR
Access PTT Communications from Your Desktop PC
You're not a mobile worker in the field responding to events and service calls, but you're there to provide support from headquarters, a communications center or a remote location. Let's turn your desktop PC into a PTT communications hub.
WAVE Desktop Communicator is a feature-rich software application that allows workers to use their desktop or laptop PC to monitor, transmit, and receive audio from multiple communication systems such as two-way radio networks and telephones. With an intuitive and easy to use display Desktop Communicator runs on virtually any PC, from multiprocessor desktop machines to Netbooks.
WEB COMMUNICATOR
Use a Web Browser to Access Your WAVE Communications Channels
You're not at your own PC, or you cannot get to it quickly. Other PCs are available. That's when the WAVE Web Communicator comes in to its own. WAVE Web Communicator can manage more than 20 channels of secure, encrypted audio from inside a web page.
Using secure access to WAVE processing and management functionality on remote servers, in a hosted environment or as a Cloud-based service, any web browser attached to any IP network (wired or wireless) can provide access to WAVE-enabled communications.
ADVANCED DESKTOP COMMUNICATOR
Scalable Dispatch Console Balancing Capabilities with Value
If you're a small to mid-size organization that has to balance communications console capabilities and performance with acquisition and operating costs then WAVE Advanced Desktop Communicator will meet your needs.
Advanced Desktop Communicator provides advanced VoIP dispatch features that give individual dispatchers the ability to display and manage hundreds of communications channels that make up a complex and fluid communications environment. Multiple radio channels, telephone calls and other communications systems can be quickly patched together. Activity displays, audio recording and instant replay give dispatchers a complete session history for archiving and audit trail purposes.
WAVE Advanced Desktop Communicator Data Sheet
WAVE Desktop Communicator Data Sheet
WAVE Mobile Communicator Data Sheet
WAVE Mobile Communicator Fact Sheet
Download The WAVE Work Group Whitepaper
For more information or to discuss adding WAVE connectivity, please call us 408-592-7519 or send us request.